Built-in strainer

Ergonomic burn-proof handle

Non-stick covering

Zero mess clean-up

Overflow prevention

Lightweight and durable
Testimonial's
Multicolumn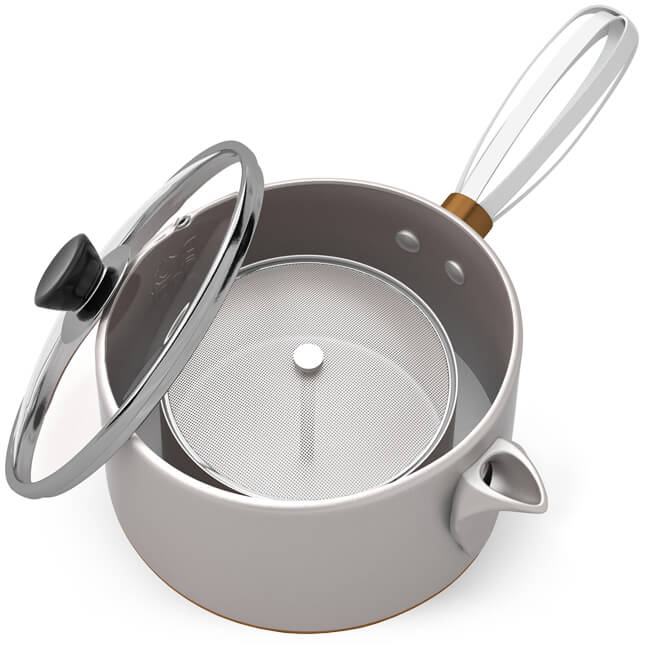 BruChai's
patented tea pot
alleviates many of the struggles
traditional tea brewing creates.
We're dedicated to help you brew a perfect cup of chai with minimal effort. Using a combination of traditional brewing techniques and modern solutions, we've patented a brewer that allows you to recreate a traditionally brewed cup of chai without the lengthy and laborious process that usually comes with it. No more moving the brewer to and from the heat source multiple times to prevent the chai from spilling onto the gas range, before your drink is ready.
Our Mission
To make an impact towards preservation of Lands & waters
We believe, we have a responsibility to protect and preserve the land and waters of this earth. Global warming is a threat to all living beings that inhabit this planet.

We believe that a true understanding of nature is that each living thing is dependent on the existence of other creatures in the complex web of interrelationships that is the natural world.

We believe that the separate parts of the ecosystem on this earth function as one and that we have a major responsibility in the making a positive impact on the preservation of the lands and waters.

We believe that the solution must start with each one of us.
By choosing BruChai,
you are making your positive
impact towards this movement.

We plant a tree with every order and by doing so, actively make the planet better than before your purchase.

  

We know that planting a million trees will not happen overnight. It will take years. But we are focused and determined, and we hope you will join us in our path to plant a million trees.

We hope that by making you a part of our movement, we can inspire you to incorporate preservation and sustainability into other parts of your life - to share your stories and in turn inspire others.
Still have the Questions about the product?
Please share your details and we will help answer any questions that you may have.
For every friend you refer who purchases BruChai brewer,
You get $ 5,
Your friend gets $5 &
We'll donate to the Arbor Day Foundation to plant trees
Share The Warmth. Share This Link With A Friend.
Start Your Referral Account And Start Gathering Your Rewards